You've met the love of your life for a while now and you've finally decided to get down on one knee and propose. However, you are as scared as you are excited. That's because while you know this is an important step for your relationship, you also want to plan the perfect proposal and don't know how to go about it. Just relax. We've got you covered: below are some romantic proposal ideas that will help make your proposal very memorable.
1.Champagne with the Ring
Perhaps one of the simplest way, yet not less romantic is to cook and prepare a full candlelight dinner for a dinner date for two at home. You can then serve her a champagne flute with a diamond ring on the bottom or ribbons on the stem to surprise her.
2.Her Favorite Restaurant
When dining at her favorite restaurant, arrange with the waiter to have the diamond in a box as one of the choices in the dessert box. Tell her that it's the sweetest thing you know and that you can't resist it any longer. This may not work out so well if the waiter chooses to keep the diamond, so choose your waiter carefully.
3.Childlike Love
Pick up an enthusiastic new puppy with a ribbon collar. Put a ring on the pretty collar to make it look like she's happily welcoming a happy puppy. But as soon as she holds the little dog and sees the ring, you get down on one knee.
4.Chocolate Lovers
Does she have a sweet tooth and loves chocolate? Then this proposal idea is perfect for you! Put the diamond in the middle of a chocolate box. And when you reach the location you want to propose, give her the box. Wait for when she open it to propose.
5.YouTube Proposal
Not many people have tried it, but we guarantee it's great. Make a personal video of your marriage proposal, upload it to YouTube and give it the fancy title "The New Romantic Movie" – "Merry Ever After". Watch some movie trailers and find a way to open the video link while she's watching attentively.
6.Beach Bums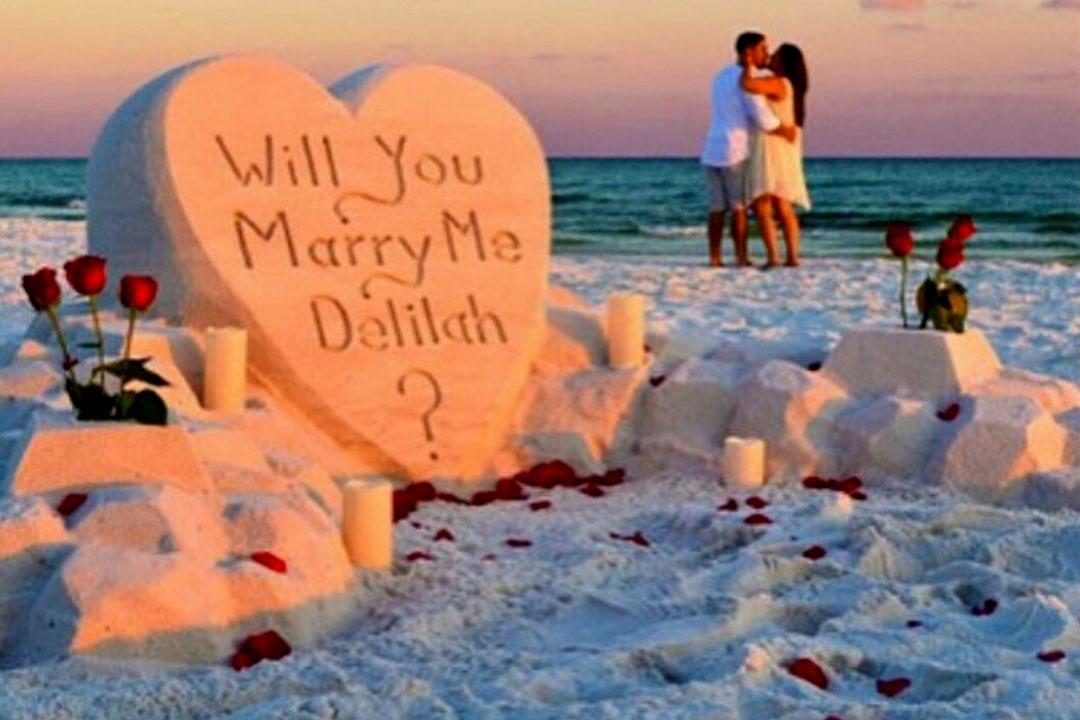 Spend a day on a private beach building a sand castle or digging a mine. The night before, write a love poem on a piece of parchment paper, put it in an antique bottle with a cork and bury it in a prominent sandy spot near your excavator. Make sure you are the one who "finds" the bottle. Open and read the poem, then take the diamond out of your pocket and ask for her hand.
7.Surfaholic Proposal
Create a personal web page with your name and proposal with the image of a diamond in its velvet delivery box and send her the web address. Or sit down together to browse the good vacation sites and visit a site or two before entering the web address.
8.Seafood and Flowers
Take her for a walk or a stroll in the woods. Write "Marry me" on the boardwalk with rocks, flowers or seafood. Put the diamond on her finger when she says "yes".
9.Fireworks
And finally, what could be more irresistible than watching a fireworks display specially prepared for your loved one? Imagine the surprise and happiness they will have. Start by hiring a party planner and a team to take care of the fireworks and make them fly at the right time. Deflect the big question and take a knee right before the show ends. Really, this is something you will always remember and cherish. It will be even better if the fireworks capture the big question in the night sky and not you. Imagine everyone's reaction. Priceless!
We hope that now you've got what you needed to plan the perfect proposal. Don't forget to leave a comment below to let us know how it went!